Cosmetic WHITEsmile tooth whitening at home
INSTRUCTIONS AFTER TOOTH WHITENING
INSTRUCTIONS AFTER TOOTH WHITENING: THINGS TO BE DONE AFTER DENTAL WHITENING IN ORDER TO ACHIEVE LONG-LASTING WHITENESS:
In order to ensure that the results achieved by dental whitening remain long-lasting, bear in mind the following pieces of advice for the next 4 days: The durability of the result of dental whitening largely depends on your eating and oral care habits in the case of the WHITEsmile FLASH system as well.
During the 4 days after the treatment it is very important to comply with the following instructions: colour restrictions and protection against extreme temperature influences, such as iced lemonade or hot soup. Forbidden are: coke, coffee, red wine, black tea, jam, beetroot, foods containing red pepper or tomato, citruses because of their fruit acid content (lemons, oranges), spices – curry – in other words, basically everything that stains the teeth and the tongue. Coloured mouthwashes should also be avoided. Instead of these I recommend foods of natural colour: rice, pasta, cheeses, pastries, banana, white meat, fish, mineral water, vanilla shakes, potato, creamed ragout, plain yoghurt etc. In addition, I recommend the use of the AWM sensitivity reducer as needed, but at least for 1 or 2 days after dental whitening, as well as the use of the toothpaste maintaining whitening as these products contain the dental whitening treatment.
HOW EFFECTIVE IS DENTAL WHITENING AT HOME?
In my experience, spectacular results can be achieved by both whitening procedures (at the surgery / at home). Treatment is painless in this case as well, occasionally a slight sensitivity of the teeth may be experienced. For one day after the treatment the teeth may be sensitive for cold or hot to a lesser degree, which can be terminated with proper aftercare. Upon completion of the treatments 5 to 10 shades of improvement can be achieved in the colour of the teeth, on average they become 7 to 8 shades lighter.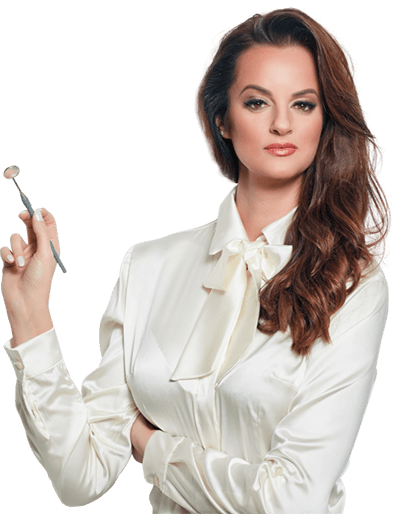 A beautiful smile is the best investment!
Book an appointment for an oral hygiene treatment now!
IS DENTAL WHITENING PROCEDURE AT HOME SAFE?
The dental whitening process supervised by a dental hygienist is perfectly safe. The procedure is somewhat slower than the one at the surgery, but apart from this, it effectively whitens the teeth. Proper use is indispensable, so if it is done properly, it does not damage the teeth, the gums, the fillings or the mucous membrane. It is important to mention that dental whitening can only be carried out in the case of properly cared for gums and teeth with maximum supervision.